Native American Athlete, Larry Ramirez

First Native American Pitcher to Pitch a Winning Complete Game Gets Inducted into Cal State Northridge Hall of Fame.

On Saturday, February 28, Native American athlete, pitcher Larry Ramirez, will be inducted into the Cal State Northridge Baseball Hall of Fame as a member of the 1970 College Division National Championship team.
The high-kicking, hard-throwing right-hander pitched a 5-hitter against Missouri State, striking out 10 batters to put CSUN into the championship game back in 1970. Missouri had previously beaten Cal State Northridge (then called Valley State) on the first day of the tournament, cranking out 15 hits..

Native American Athlete Larry Ramirez has a lifetime E.R.A. of 1.98

Ramirez, a TOPPS preseason All American, had been nursing an injury all season, but was called upon to put Missouri State out of the tournament. His lifetime E.R.A. was 1.98 over two seasons and 300 innings. Still a second all time in lifetime E.R.A. at Cal State Northridge, he holds wins over USC, Arizona, Arizona State, San Diego, Cal State Fullerton, Fresno State, Long Beach and many other top college teams .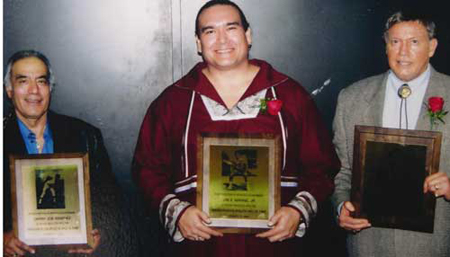 Ramirez was one of three Native American Athletes inducted into the American Indian Athletic Hall of Fame in 2004.
Ramirez was inducted into the American Indian Hall of Fame in 2004 and is the only Native American athlete to pitch a winning complete game in the College World Series .

This recent recognition is poignant for Ramirez who is disabled. Twelve years after his baseball career came to an end, he was hit head-on by a driver who crossed over the center divider and died, leaving him permanently disabled. After one year in the hospital and three years in a wheelchair, he struggled to learn to walk again with the help of leg braces and crutches.

In 2003, Ramirez was a special guest in Omaha for the College World Series, which was part of a surprise trip that his family had arranged. His story about what it was like to be a brown-skinned pitcher during the times of civil rights strife during the 70's was featured on the front of World Herald Sports page.
I wish there were more Native American athletes.
Despite his humble beginnings growing up in a one-room adobe house, Ramirez went on to work in the field of psychotherapy after leaving his college baseball career. He attributes baseball to making this possible through a college education. According to Ramirez, "I didn't know how smart I was until I got to college. I planned to work for the phone company after high school, but a baseball scholarship changed all that." Larry was the first person in his family to graduate from high school, let alone college.

Ramirez lives with his wife, Laura, (author of a parenting book about applying Native American ideas to parenting) and two children, Dakotah and Colt in Northern Nevada. He has three grown children from a previous marriage: Kirk, Rion and Misty. The entire family will be in attendance at the induction ceremony.

When asked about his upcoming recognition and induction into the CSUN Baseball Hall of Fame, Ramirez said, "I'm saddened and honored at the same time. I wish there were more Native American athletes to act as role models for young people, especially those growing up on the reservation. When I played, I always felt that I was playing for the people, not just myself. As Native American author, Vine Deloria, once said, "It's not so much that Indian people live in tribes, as that the tribe lives in Indian people."